We have more than 10 years of experience, producing AGV with safety as a premise and high quality as a basic requirement. Producing mobile robots for many different sectors and are constantly growing, We are here for you.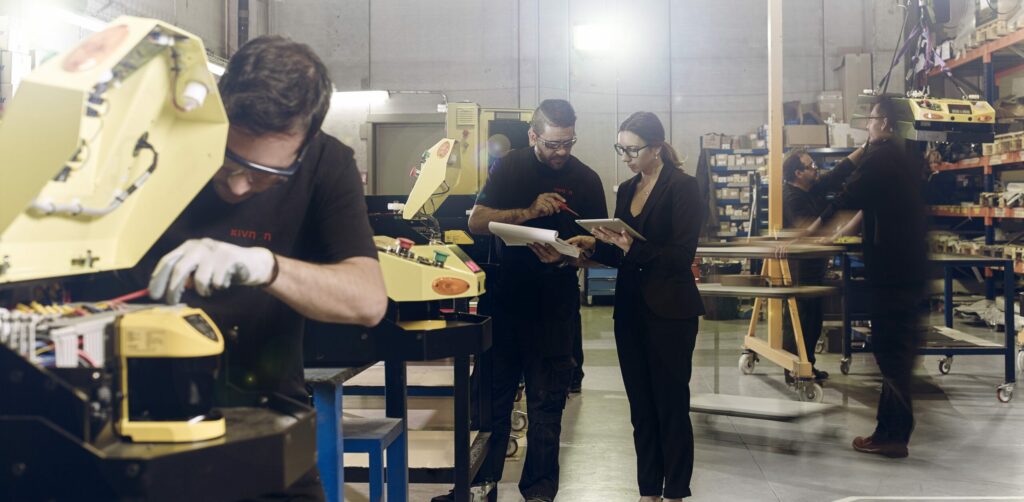 We have had safety as a premise since we started. If we had something clear is that Kivnon's mobile robots were created to collaborate with workers making their tasks easier and optimizing their internal processes, not to injure them. Nowadays we have become one of the safeties companies that produce AGV. Is for that reason that all our mobile robots have very high safety measures such as laser scanners, ultrasound sensors, safety PLC, and Bluespot because taking into account that our AGV can interact with humans we did reliable robots but to avoid dangerous situations.
If there's something we are known about is our "Friendly Innovation". Our AGVs are easy to install and even more to use it. We are always looking for the most advanced technologies and usually, this fact can complicate the implementation and usage. Sometimes, NASA technology requires NASA engineers and that's exactly what we wanted to avoid. We have managed to keep the best technology but to make it easier for the worker. In Kivnon we have achieved a combination of innovation, simplicity, and collaboratively.
Furthermore the transporting of all types of materials is one of the most used intralogistics tasks. Because of that, our AGV ables our partners to transport these loads improving the ergonomics of the floor. We also offer you the option to customize the mobile robots depending on the dimension of the charges and its needs. This makes us the capacity of being more adaptable according to your requirements.
Our AGV can be implemented in very different kind of processes:
In Kitting&Picking: Giving the facilities to pick the materials and transport them to different assembly lines depending on the materials required for each assembly line.
Assembly Line: Our AGV dynamize your assembly. In fact that the productivity of the assembly line can increase by about 10% with the implementation of our mobile robots.
Warehouse: Kivnon AGV can take the final material and bring it to the warehouse to wait for the pickup and delivery to the client.
This way you can automate the whole process which means increased production, and an improvement in efficiency and productivity.
We own the whole process. From production to customization and sales. This allows us to have control of the entire creation of the mobile robot. Enabling us the production high-quality, robust, and very safe AGVs with user-friendly technology. It also achieves trust with the client as we can provide the necessary solutions to any inconvenience. All this is making Kivnon the best option when you have to automate your internal processes.
Our friendly innovation has earned us the trust of more than 50 companies from different sectors around the world. Will you be the next one? Tell us and we'll be there for you!